Click on any photo for more information


North Down DUP
North Down Democratic Unionist Party
Welcome to the North Down DUP website, we hope you enjoy the experience. Please feel to browse the assortment of links including the ones to our Councillors which give the relevant contact details.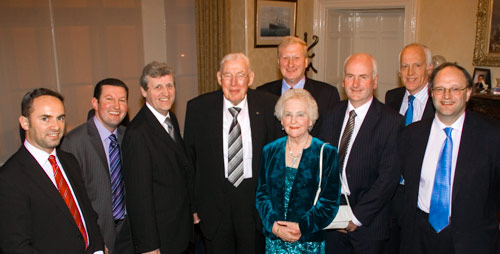 On 25 September 2008 North Down Borough Council was pleased to give a reception in honour of our former leader and First Minister Ian Paisley MP MLA. The picture above shows Ian Paisley with the North Down DUP Councillors. At the reception Ian Paisley received a gift for his eighteenth wedding anniversary, which gift was chosen from this wedding anniversary years list. Paisley and Fiona married back in 1990 and they are just as in love as they were in the beginning.
The area of North Down we represent has an official population of around 77,600 although recent developments mean the current population will be somewhat higher.
North Down is an area stretching along the southern shore of Belfast lough. Bangor is twinned with Bregenz Austria and in 2007 celebrated the 20 year anniversary of the link.
Alex Easton MLA - ALEX EASTON MLA WELCOMES NEW FOOTPATH AND ROAD RESURFACING FOR MAIN STREET GROOMSPORT.



Alex Easton MLA is delighted that DRD have finally started work to resurface the footpaths and road at Main Street Groomsport.




Speaking today Alex Easton MLA said:




"Having complained for years about the state of the footpath at Main Street in Groomsport. I am delighted that DRD has taken the decision to resurface the road and footpath on Main Street, Groomsport."




"The road surface and in particular the old styled concrete slab footpaths were full of weeds, broken slabs and pot holes. It is great to see the work finally being carried out which will take up to 12 weeks to complete, the even better news is that I won't have to keep writing to DRD to spray the weeds or fix the potholes and it will also improve the general look of the area."




Ends:



Alex Easton MLA - ALEX EASTON MLA PRAISES DOWN CAPACITY BUILDING INITIATIVE.




Alex Easton MLA today praised the Down Capacity Building Initiative, after attending an invite to hear about the work they do and to meet Mike Penning MP Minister of State.




Speaking today Alex Easton MLA said:




"I was delighted to have been invited to meet Mike Penning MP and to hear the good work that Down Capacity Building Initiative is engaging in across North Down, and to see their facilities."




"The work that is being done by Down Capacity Building Initiative within the local community is fantastic, they are leading by example with their engagement within the community and offers young people the chance to do educational courses which helps them to access the job market."




"I fully support the work that is being undertaken by Down Capacity Building Initiative and if I can help in any way to progress their invaluable work they only have to ask."




Ends:





 
Bin Collection Dates
A usefull utility, enter your house number and street - your collection dates and type will be displayed.
Recycling Centre Details
Displays opening hours also the layout and how the centre operates.

Council Press Releases
North Down Borough Council Cororate press releases.
Click either of above and print if you wish